Like many of you I was enjoying some Thursday Night NFL last night and this play peaked my interest.  The NFL has numerous rules dealing with hitting the QB and when a pass is truly a pass or simply incomplete.  Many of these are intended to protect the quarterback.  However, this play I am not sure I have ever seen before.   Before we look at the play from the actual game, lets discuss the rule and case in question.
2.31.2 SITUATION:
Quarterback A1 drops back to pass and is under a heavy rush. A1 is hit and the ball drops to the ground and B1 recovers. At the instant A1 was hit and lost possession, his passing arm was:
(a) moving backward; or
(b) was extended back, but not moving in either direction in relation to the line of scrimmage; or
(c) was moving forward toward the line of scrimmage.
RULING: In (a) and (b), it is a fumble and B gains possession. In (c), since A1's arm was moving forward toward the line of scrimmage, it is an incomplete forward pass and the ball becomes dead when it hits the ground. (2-18)
Based on this ruling from the casebook now judge the play from Thursday night.  The officials ruled this "incomplete", would we have ruled it the same, or a fumble?   Don't miss the fact that the actual pass goes backwards.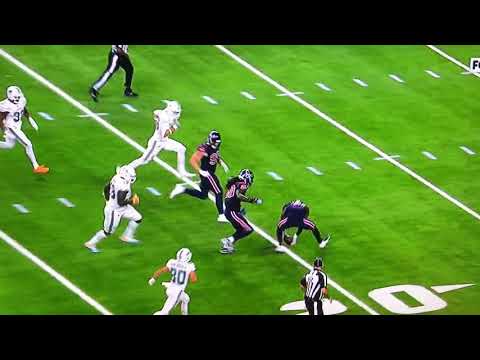 So what do you think?  Is it incomplete or a fumble.  Please put your thought in the comment box.
I will admit, replay on this play makes one heck of a difference.  It would be a very difficult call at the NFHS level without any replay.
Finally, best of luck to all the crews working today as we are getting deeper into the playoff season.  Enjoy the day and savor the experience!
Posted in Fumble | 3 Comments »